This was our fourth year to perform at the San Antonio Burlesque Festival and (as always) we had a fabulous time! With the vast majority of the performers being Texans and already knowing one another, the whole weekend felt like a giant reunion/party!
Festival weekends are always such a whirlwind of activity and events often with very little time to explore the host city. We were lucky enough to get into San Antonio a little early to hang out before all the excitement began. We kicked things off at the city's new tiki bar, Concrete Jungle, where we sipped outstanding Painkillers and Planter's Punch. Later we met up with fellow Austin performer and our burlesque-bestie, Chola Magnolia, for dinner.

We made it to the historic Woodlawn Theatre just minutes before the Friday Night Showcase began. Foxxy Blue Orchid, one of the festival producers, welcomed everyone to the show with his usual flair (and killed at his hosting duties all weekend). Another one of the amazing festival producers, Jasper St. James, started things off with a BANG by dazzling the audience with his balloon pop number. Some of our favorites of the evening included recent graduates of the Austin Academy of Burlesque where we teach: Gen De La Crème, Beav Braverman, and Aurora Hart.
One of our favorite things about the San Antonio Burlesque Festival is that it brings out favorite pocket-sized princess, Ruby Champagne, to Texas! As 2014 Queen of San Antonio Burlesque, she performed a beautiful and energetic step-down number. And to close the night, legend Judith Stein got the audience on their feet with her sexy and hilarious "pants" number and proved exactly why she is…legendary! After-party shenanigans included cocktails, vegan snacks, and risqué stories from Judith Stein!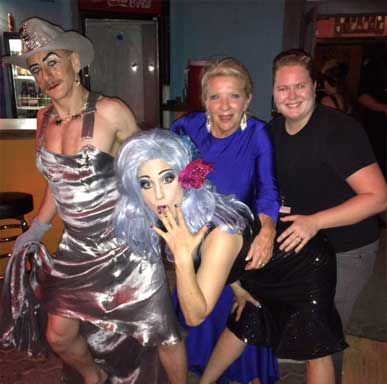 We grabbed some brunch the next morning (err…afternoon) and then Eaton was off to a special rehearsal with Jasper St. James and the TwirlyGirl herself, Miss Indigo Blue! Eaton and Jasper would be providing Indigo with some on-stage support during her performance that evening.
A few hours later the theatre was packed and sweaty (old theatre air-conditioning and Texas summer heat don't mix) for the Saturday Night Spectacular. Emma D'Lemma blew us away with her intense aerial rope work, JD Hickcock got his "Cattle Grind" on, Fat Bottom Cabaret shook their curvaceous money-makers, and Chola Magnolia proved why she is the "Baddest Blossom in the Barrio!" These fabulous folks were among the award winners of the festival and took home tiny taco trophies (that's how we do it in Texas) made by performer Black Mariah. We were excited to take home the taco for "Best Duet" ourselves!
The San Antonio Burlesque Festival deserves our deepest gratitude for bringing the Godfather of Boylesque to Texas for the very first time: TIGGER! Tigger is one of our all-time favorite performers and we were so excited to welcome him to the Lonestar State. He blew the audience away with his humor, power, and gravitas! Miss Indigo Blue closed the show (with some help from Eaton & Jasper) and showed us exactly why she is the Reigning Queen of Burlesque!
The Saturday after-party involved cocktails and a Queen sing-along in a book-themed bar, much the chagrin of the bartenders and locals! Afterward we took a scenic stroll around the Alamo as we walked Ruby Champagne to her hotel and ended up with an accidental escort from a Texas Ranger on his rounds around the mission.

Pool party! The Sunday performer brunch traditionally takes place poolside and this year was no exception as we had a giant public pool to ourselves for a few hours. Slide races, cannonball contests, and a whirlpool producing conga line through the pool were all great ways to wrap up the weekend. After more hugs, kisses, congratulations, and breakfast tacos, we were hitting the road for home. Another outstanding year of performance and celebration of community! Thanks to all the producers for letting us participate yet again!

cast and performance photos by JPL Productions