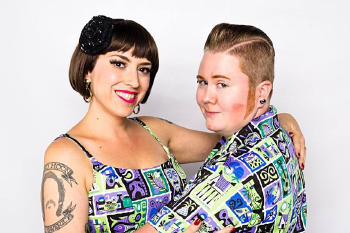 About Queertini Time
Queertini Time is an award-winning, gender-bending burlesque duet from Austin, Texas. Comprised of Eaton Johnson and Shelby Mine, this comedic duo began performing together in 2004 and formally established Queertini Time in 2010. They were featured in the Burlesque Hall of Fame's 'Movers, Shakers, and Innovators Showcase' in 2019, and were awarded the Best Duet and the Audience Choice awards at the first annual Southern Fried Burlesque Festival in 2011, Best Ensemble at the 2013 Texas Burlesque Festival, Best Duet at the 2015 + 2017 San Antonio Burlesque Festival, and Most Original at the 2018 Texas Burlesque Festival.
Eaton and Shelby have been instructors at the Austin Academy of Burlesque since 2013. Both have also been active members of the Austin Burlesque Alliance since its inception in 2011.
Partners in life as well as on stage, this couple really enjoys "rehearsing" together. Queertini Time is a potent mixture of striptease, spirit gum, comedy, and camp. This queer cocktail is always shakin'!
About Eaton Johnson
Eaton Johnson began his career performing as a drag king in 2003. He was a member of Austin's premier drag king troupe, Kings N Things, from 2003-2012. He served as the Media Stud from 2007-2011 and as the Producer of the troupe from 2009-2012.
Eaton also served as the University Liaison for the International Drag King Community Extravaganza in 2006 and as Co-Producer of Freakshow A Go Go in 2009 – both events produced in Austin, Texas.
He performed in the Friday Night Drag King Showcase and the Sunday Night Pandora Boxx Festival Closer Show at the First Annual Austin International Drag Festival in 2015.
Partners in life and performance, Eaton thoroughly enjoys exploring all aspects of creativity when coming up with new pieces with Shelby!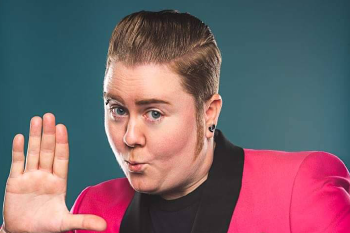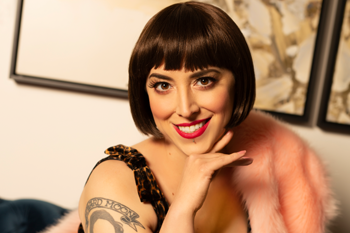 About Shelby Mine
Shelby Mine began her career in 2004 portraying fierce, feminine roles on stage as a guest performer with Austin's premier drag king troupe, Kings N Things. In 2007 she was inspired to explore striptease performance after attending the Sex Worker's Art Show.
In 2008 Shelby debuted her first burlesque performance and joined Kings N Things as an official member later that year. She and Eaton began collaborating shortly after, combining striptease and drag performance in saucy duet routines. Shelby was Co-Producer of Austin's Freakshow A Go Go in 2009.
Shelby takes inspiration from The Muppets, Hollywood musicals, and most importantly, Eaton – her partner in life and in creativity. Shelby draws in her audiences with her comedic style, impeccable timing, and high-voltage smile. She's the "Queerlesque Cutie!"
Artist Statement
We collaborate to create character-driven burlesque duet performances with strong narrative structure, focusing on themes of love and longing. We utilize striptease, drag, and comedy to explore these themes and engage our audience.
Our on-stage drag personas represent a hetero-normative couple (in contradiction to our off-stage reality) and we employ this contradiction to comment on gender roles, sexuality, and audience expectation.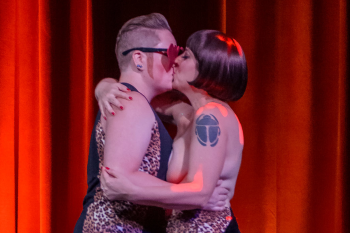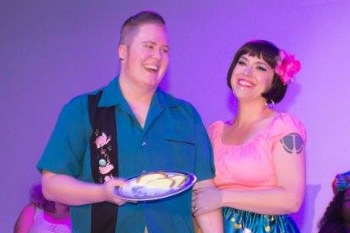 Notable Past Performances
Burlesque Hall of Fame 2019 (Las Vegas, NV) Movers, Shakers, and Innovators Showcase
Texas Burlesque Festival 2010, 2011, and years 2013 – 2019 (Austin, TX) Winner of Best Ensemble in 2013 | Winner of Most Original in 2018
Show Me Burlesque Festival 2019 (St. Louis, MO)
San Antonio Burlesque Festival 2012, 2013, 2014, 2015 & 2017 (San Antonio, TX) Winner of Best Duet in 2015 | Winner of Best Duet/Group in 2017
Texas Queerlesque Festival 2016, 2017, 2018 (Dallas, TX) Headliners in 2016
Burlesque Hall of Fame Titans of Tease Showcase 2017 (Las Vegas, NV)
OUTsider Film and Arts Festival 2015, 2016, 2017 (Austin, TX)
Windy City Burlesque Festival 2015 (Chicago, IL)
Fierce! International Queer Burlesque Festival 2013 (Columbus, OH)
Southern Fried Burlesque Festival 2011 (Atlanta, GA) Winner of Best Duet | Winner of Audience Choice
Dallas Burlesque Festival 2011 (Dallas, TX)
Queerlesque 2011 (New Orleans, LA)
Lonestar State Performances
Queertini Time has performed across Texas as featured guests of various productions and troupes:
After Dark Review of Corpus Christi
Dark Matter Productions of San Marcos
Dem Damn Dames of Houston
Stars & Garters and The Pastie Pops of San Antonio
Bourbon and Bordeaux of Dallas
Texas Burlesque Peepshow of Dallas
Viva Dallas Burlesque
Avant Glam Cabaret, Black Widow Burlesque, Fat Bottom Cabaret, Ginger Snaps Burlesque, Kings N Things, Lowbrow at The Highball, and The Jigglewatts Burlesque Revue of Austin
Modeled for the Austin Chapter of Dr. Sketchy's Anti-Art School